Arcana
Arcana is a pre-battle equipment in the Armory tab. There are a variety of Arcana in Arena of Valor.
Arcana are runes that increase stats when equipped. Arcana can be leveled up to level 3, where higher level indicates betters stats. You can have up to 30 Arcana per Arcana page (10 of each color type: Red, Purple and Green). So each page can reach a maximum level of 90. Pages can be equipped each game based on the hero you want to use. Arcana slots unlock whenever your account gains a level or by buying slots with gems. Additionally, the first 14 Arcana pages can be bought using 400 gems, whereas all the pages after requires 600 gems to unlock. In the old versions of the game, Arcana pages could only be bought with vouchers.
The arcana system has been changed in the July 2019 update.[1] The full patch notes about arcana can be found here.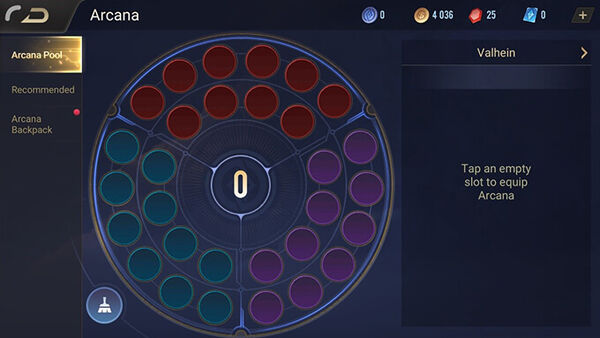 Since this update of the Arcana system, all arcanas are renamed to the highest level equivalent.